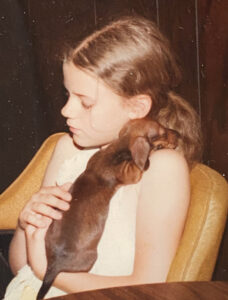 I have always been very close with animals.  I am told that when I was still a toddler in diapers, I displayed a very tight bond with dogs. I am positive that I came to this earth with a love for animals, and it has been a strong bond for many lifetimes.  At the age of seven, a school classmate introduced me to horses, and I took to them immediately.  I was positive that horses were going to be a very important part of my life.  I started out taking riding lessons and quickly excelled into horse showing and I still ride and show horses 44 years later.   Animals are essential in centering and balancing me in a way that no other being can accomplish. I have always been able to hear animals and I know what they are thinking and feeling. One day it dawned on me that not everyone has developed this skill.  It came so naturally to me, and I was thrilled to realize that I could develop this skill further.   I decided to seek out top professionals in their fields to help me to develop my skills and gifts.  My talents in animal communication are "knowing, feeling and hearing" the animals. I find that animals gravitate to me and ask me for what they need.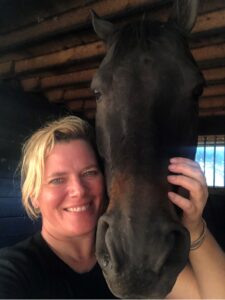 I have dedicated my life to enhancing the lives of animals and human beings alike through science, energy healing, and communication.  I hold a Bachelor of Science degree in Small Animal Science from Delaware Valley University and I earned my Animal Communication Practitioner Certification from The Nancy Windheart Animal Communication Academy in December of 2020.   I have attained my Reiki Master Certification from Dr. Lauren Nappen's Original Medicine Practice.  I use this energy healing gift daily with animals, people, situations, and myself.  Spiritual growth is very important to me, and I am always "doing the work" to reach my highest vibrational level.
I am extremely humbled by the gifts that have been given to me by GOD and I will use them to my best ability. I share my life with my 4 horses, 4 dogs, 2 rescue goats and 2 rescue ducks.  My large animal family keeps me sharp with my animal communication skills.   I look forward to working with you and your animal family.